Apple recently announced an update for the iMac for this year. The 27-inch iMac will get most of the changes, but the 21.5-inch iMac and iMac Pro will also get some upgrades this year. Let's dig right into these updates!
iMac 2020 Updates
iMac 27-inch
One of the biggest, major upgrades is for the 10th generation Intel CPUs. There will be four CPU SKUS available including the base 27-inch iMac. This model has a 3.1GHz 6-core Core i5-10500 which is able to Turbo Boost to 4.5GHz. Next up is the 3.3 GHz 6-core Core i5-10600 which will be able to Turbo Boost to 4.8GHz. Next will be a higher end model with a 3.8GHz 8-core Core i7-10700K which can Turbo Boost to 5.0GHz.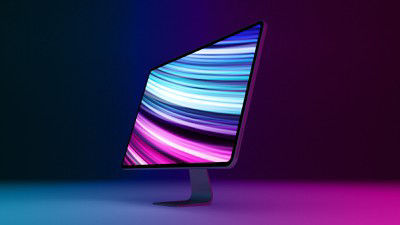 There will be new GPUs as well, it seems. The base model will get AMD Radeon Pro 5300 with 4GB GDDR6 VRAM. The higher end model will have the Radeon Pro 5500 XT with 8GB GDDR6. Another option for configuration is Radeon Pro 5700 with 8GB GDDR6.
The newly updated iMac will also have options for new memory and storage. All models are slated to come with 8GB (2x4GB) 2666MHz DDR4 memory. They will also have the option to get up to 128GB in total across the four SO-DIMM slots. These are accessible by users.
Now, storage will be completely flash. The base model is configured with 256GB. The next model up has 512GB with 1 or 2TB options. The highest model comes with 512GB with the option to go with 1TB, 2TB, 4TB, or 8TB as options.
Apple has included its T2 Security Chip for the 27-inch iMac in order to be able to work with the flash-based storage. This will include the storage controller that's needed to encrypt the storage drives as well as the secure boot.
Also included in the 27-inch iMac is the 1080p FaceTime web camera. There is also a much-improved set of microphones. The T2 chip has an ISP which allows for exposure control, tone mapping, and face detection. This chip also makes it possible for the speakers to provide deeper bass and higher fidelity.
Another pretty cool option from the 27-inch iMac is an optional nano-texture glass coating. The cost for this coating is $500, but there are some benefits to paying this fee. There seems to be a similarity to the Pro Display XDR with this coating where the coating will reduce the amount of reflection and glare that the screen gives off. It works by etching the glass at the nano level. If you work in a bright environment, it might be worth it to you to fork over the extra money for this add-on.
Another plus for the new iMac is that it will now have the support for True Tone technology. This tech allows for adjustments in color temperature to ambient lighting.
iMac 21-inch
The 21.5-inch iMac model will have flash-based SSD storage for all models. This will make all Apple computers have flash storage as a standard. All the 21.5-inch models will have 256GB as the standard, but this can be switched to a 1TB Fusion Drive (SSHD) without any extra cost.
For the 21.5-inch range, there are not any other changes. The screen still isn't a Retina display, for some reason, and the price is still $1,100. There aren't any design changes this go 'round. That is something Apple is obviously saving for a future update. Do you plan on getting a new iMac now that there will be some updates this year?