Are you one of those iMac users who loves the power of having multiple apps operating at the same time? Do you like having multiple browser tabs open simultaneously? If you can't do this because your iMac doesn't normally have the juice to pull it off, you can give it the juice it needs with an upgrade in RAM.
Improve Multitasking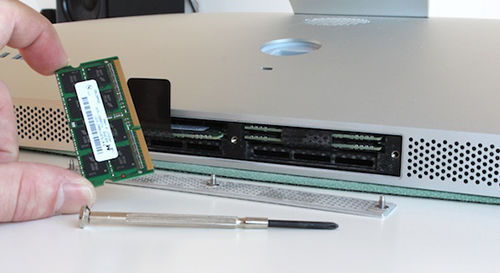 Many people hold off on upgrading their RAM when they first purchase a new iMac because the price can be prohibitive. For example, if you upgrade a new iMac from 8GB of RAM to 32GB when you first purchase it, that's an extra $600.
Fortunately, there's another solution for you if you chose not to get the RAM update up front, and you can do it yourself. You can buy RAM from third party sites for a fraction of what you'd pay from Apple. You would have to install it yourself, but Apple has made the process fairly easy to do and it's something you can do whether you're buying a brand-new iMac or if you have one that's been with you for awhile that you want to upgrade. The benefit is your computer will have much more juice to be able to do some glorious multi-tasking.
RAM access for 27-inch iMac and 21.5-inch iMac
Different sized iMacs have different access points for the RAM. The 27-inch models have a door behind the stand which allows for easy access to add more RAM, but this is for iMacs since late 2012. If you have one before 2011 or if it's a 27-inch iMac, the access panel is on the bottom grill of the computer. If you have a 21.5-inch iMac that was made after 2011 OR if your iMac is an iMac Pro, there is not really an easy access point for RAM. You will have to disassemble most of your device to add more RAM, and this is something many iMac users would be hesitant to do.
Figure out the model of your iMac and the max amount of RAM
Before you purchase the RAM and install it, you need to determine the type of iMac you have as well as the maximum amount of RAM you will be able to add. You can look for the year your computer came out or the model number to help you figure out the amount of RAM you can use. To find this info, go to Apple menu, and choose About This Mac. Here you will be able to find out the year your iMac was released. You can also look at the memory line. There you will see how much RAM your iMac has already. The version of MacOS your computer is running determines how much RAM you have as well as the number of slots that it's occupying.
If you want to find the model number, go to the About This Mac tab and select System Report. A screen will appear that shows a hardware overview. Then, go to the Apple Support page to show how much RAM your device can hold so you don't end up buying more than you're able to use and throwing money down the drain.
How to install RAM on a 27-inch iMac
After you've purchased the RAM, you need to shut down the computer and allow it to cool down. Take out any connected cords, and place it face-down on a clean towel on a flat surface. Look for the small gray button located in the power port and press it to release the memory compartment door. You'll have to hold the button down in order to get the door off completely. Look for the two levers on the right and left sides and push them to let the memory cage come off.
If you need to remove existing RAM from your iMac, pull the module up and out while making sure to note the location of the notch so you can line up the new RAM properly. Install the new RAM by pushing it into the in the same orientation as the old RAM. You should hear and feel it click into place. Once you've done these steps, put the door back on and try plugging in your iMac. Turn it on and go to Apple Menu and choose About this Mac. You should see the new RAM showing up.
While it takes a little extra effort, it's well worth the time it takes for you to upgrade your RAM on your own. You'll improve the functioning of your iMac and give yourself many more years of use before it slows down.