With Apple making the decision to make its own ARM processors in-house, they no longer need Intel processors. Moving forward, Apple plans to produce their own M1 chips. They will be selling off their older stock of Intel-powered MacBooks to make room for new releases. Many have wondered, though, whether the new M1 chips from Apple are better than the Intel chips. Let's look at a few of the different metrics to determine which is the best processor.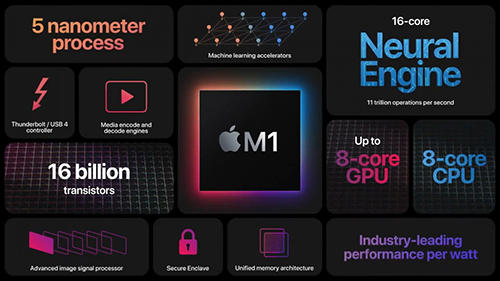 Battery life
Every laptop owner wants their device to last as long as possible on a charge. No one likes to be tied down with a charging cord, or worse yet, for their battery to die long before it should. Intel claims that the charge of the M1 chip is not very exciting since it only lasted five minutes longer than the Acer Swift 5. Intel asserts that Apple's claim of 16 hours and 32 minutes battery life is way overblown because the test was done with the screen light at a low 150 nits, which no user would ever be able to function with. You'd think that Intel would be able to perform the same test and get better results if that were the case.
Selection of hardware
When you're choosing a laptop, many want to have a nice selection of hardware from which to choose. Because Intel chips are in a wider range of products than M1 chips, you can expect the hardware selections to be more prevalent. MacBook Air and MacBook pro are the limits when it comes to M1 chips. They are amazing systems, but because of their limited availability, you won't see some of the hardware options that an Intel processor might have. Take one popular feature of devices with Intel processors: styluses. Artists love to be able to use styluses to create art. You can't get a stylus with a MacBook. You would have to buy an iPad to have the ability to use a stylus which seems like a big price to pay after already paying for a MacBook!
Software compatibility
Because the M1 is based on ARM architecture, it needs an emulator to run Intel apps. The emulator is called Rosetta 2. This makes it possible for devices to be compatible without damaging the performance. Believe it or not, most apps will work on a MacBook Air and Pro just as well as they would on a Windows 10 laptop.
Graphics and gaming
When you buy an Intel powered laptop, you expect the graphics to be spectacular. You know Apple wouldn't be getting away from Intel if their chips were going to have sub-par graphics. It probably doesn't come as a surprise, then, that the M1 has good graphics. There is a nice selection of games that you can play on a MacBook Pro or MacBook Air. But if you really want to play a lot of games, Apple products might not be on the top of your list because many major releases don't come out on Mac.
Performance
Last but not least, performance is a big concern with most users. Everyone knows that with the name Intel, customers were reminded of their quailty performance. That's because for ten years, Intel has been known for being able to easily outperform competitors. Now, however, Apple has something to offer in the performance department with their M1 chips. The M1 chips are getting faster and faster as developers are being able to optimize these chips more and more. Apple is outperforming Intel in this category for sure. Just one example of this is when the MacBook Air was able to convert a 4K video to 1080p in just over 9 minutes. With an Intel powered laptop, it took almost double the time. That's an impressive feat!
To sum it all up, then, both the M1 chip and the Intel chip have pros and cons. Both chips offer quality performance. The M1 offers the quality you would expect from an Apple product, and the Intel has years of being a leader in the field to back it up. Which one you get really depends on what is most important to your individual needs.