It looks like the folks at Apple are coming out with another surprise later this year. Apple is set to launch a new credit card which will be linked to Apple Pay and will be built right into the Wallet app. iPhone users will be able to sign up for this new card which Apple is partnering with Goldman Sachs to bring to fruition. Although it will work like a traditional credit card, it will be optimized for Apple Pay. Let's look at some of the details associated with this card, shall we?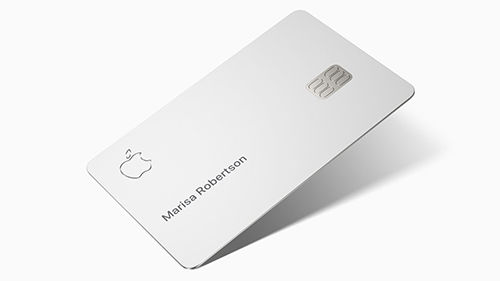 How to sign up for the card
Apple claims that it will be easy as pie to sign up for the Apple Card. Open the Wallet app and tap on Apple Card. Once you do this, you will be led through the steps to activate your new Apple Card. Once activated, it will be available right away. Apple has let potential users know that users of the card will have to have their credit approved, so they will have to qualify for Apple Card just like they would any other credit card. And for some purchases, you will have to wait until you get the card in your hand.
Apple Card, Apple Pay, and non-Apple Pay purchases
Apple Card will be able to work with any other credit or debit card that is stored in the Wallet app. You can also choose to make it your default card if you want to use it for in-store purchases and online purchases.
If you want to use your Apple Card to pay for purchases that aren't going through Apple Pay, you can still use the physical card once you get it. Since Apple is partnering with Mastercard as well as Goldman Sachs, users will also be able to use their Apple Card anywhere Mastercard is accepted.
Interest rates
Remember, your credit score will be needed to for you to qualify for an Apple Card. Interest rates will vary depending on that. Apple Card will have an APR of between 13.24 to 24.24 percent depending on what your credit score looks like. The national average APR rate is 17.67 percent, so for users who qualify for the lower range on the interest scale this might be worth looking in to.
Budgeting with your Apple Card
You can use your Apple Card to help you budget. All transactions are color-coded inside the Wallet app. There are also weekly and monthly summaries with color coding to help you see where your money is going in a glance.
Rewards
If you are the type who likes to look for credit cards that offer rewards for use, consider Apple's option of daily cash back of up to 3 percent. It breaks down as 1 percent for all purchases and 2 percent for purchases you make with Apple Pay. This would be motivation for many users to use Apple Pay to get more cash back. The most cash back, however, comes from purchases made from the Apple Store. For these purchases you will get 3 percent cash back.
One of the benefits of the Apple Card is that you will get daily cash back. Your daily cash back balance is transferred to an Apple Cash Card, which is basically an Apple debit card. You can transfer this money to your bank account, use it for Apple Pay purchases and more.
Launch date
The launch date for Apple Card has not been provided. However, it's supposed to be some time during the summer. You can expect it to be coming out any time now so keep an eye out for it so you can apply as soon as possible.