Are you one of the Apple users who go way back to the beginning of the line? The line came out in about 2006 with a white polycarbonate MacBook. As your needs changed, you might have tried some of the other products in the MacBook line. Although these devices are notoriously long-lasting, you probably have wanted to update whenever fancy new features came out, so you may have gotten to experience some of the exciting changes that Apple rolled out with their Pro devices. You will absolutely fall in love with the new MacBook Pro.
MacBook Pro 2021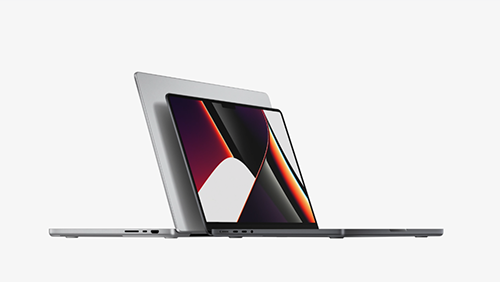 The new 14-inch MacBook with the M1 Max chip are ultra-powerful. If you need a lot of power because you use your Pro for work, you will not be disappointed. Besides being super powerful, there are many other amazing features on the new MacBook Pro that you will be excited to experience. It just might be the best laptop you've ever owned.
Ports
If you're not a person who is thrilled with having ports normally, this time might be a little different. The MacBook Pro line has a slot to offload photos directly to the Mac instead of having to plug in an adapter. That's not a huge deal for some, but it really does save time and effort. If you are used to using peripherals for a portion of your workflow, the ports might be useful for you. Both MacBook Pros have a headphone jack, three Thunderbolt 4 ports, an SD card slot, a MagSafe charging port, and an HDMI port.
Both of the new MacBooks allow users to use two 6K external displays. The HDMI 2.0 port allows for a user to add a 4K tv going at 50fps. The SD card reader allows for UHS-II cards with transfer speeds up to 250 MB/s.
External Displays
Are you the type who prefers to use an external display instead of staring at a reduced size visual on your laptop? Fortunately, both of the new MacBooks allow for external displays for video professionals. The external display you would use depends on the MacBook that you have. For some people, having this capability is crucial for work.
The Display
The MacBook Pros being released have miniLED Liquid Retina XDR. They will have adaptive refresh rates. The 14-inch MacBook Pro has a whopping 8,040 miniLEDs while the 16-inch has 10,216 miniLEDs. One negative about miniLED screens is that sometimes there can be blooming around the bright areas on a black background. However, this is not too noticeable usually.
The Keyboard
You will probably be pleased to know that this new MacBook does not employ the butterfly keyboard. A lot of Apple users were unhappy with how those worked. The newest MacBook Pros have scissor switches. Users can enjoy the clicking feel when they are typing that they are familiar with. Another thing different about this newest MacBook Pro is the Touch Bar is gone. Some Apple users were unhappy with the deletion of the physical function keys in exchange for the Touch Bar. The Touch Bar took some getting used to, but now, it's completely gone. That means that it's easier to do things like adjusting the display with physical keys instead of a bar.
The Power
How can we discuss the new MacBook Pro without talking about how powerful it is? The custom M1 Pro and M1Max are built with a 5-nanometer processor tech. You can choose the configurations. The M1 Pro base model is just under $2000- and comes with an 8-core CPU and 14 count GPU standard. However, you can reconfigure up to a 10-core-CPU and 16-core-GPU. Of course, it costs more money to do this, but if it's something you feel you could benefit from, it's worth the money. The M1 Max starts off having a 10-core CPU and 24-core GPU. It can be configured up to 32-core GPU. There's also the unified memory that can be used for both the GPU and CPU. The 16BG base can be configured to be 32GB with the M1 Pro. For the M1 Max, the user can configure it up to 64 GB.
These are just a few of the features available with the new MacBook Pro models. There are many more features that Apple has included in the new models. You will just have to pick one up to see all the goodies for yourself.