Just when the TouchBar is starting to feel like a normal part of a MacBook, it appears that Apple wants to go and bring some new technology to the keyboard. The next generations of MacBook from Apple may possibly have a dynamic reconfigurable keyboard. At least that's something that may happen if one are to take into account a new patent filing by Apple.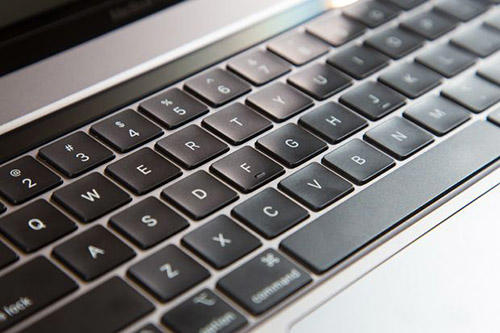 One of the latest patents from Apple hints that in their new keyboard, each key might have its own display. This may make it possible for each key to have input change depending on what the user desires. What does that mean for the newest keyboards in the MacBook line? That means that once this technology is perfected, they will be even better than before. The patent description says that the labels might be generated using, "dynamically reconfigurable label display components". This may include light emitting diode displays or other types of pixel arrays. The patent was filed in December of 2019. Knowing how the folks at Apple are usually tight-lipped about their new updates, it isn't a surprise that there haven't been many other hints to drop from Apple about this possible keyboard update.
What would make this new update to the keyboard special? Well, there's nothing special about the ability to change keyboard inputs. What is unique, however, is the ability to change the key labels so quickly. This may come in handy for people who speak multiple languages. It might make it possible for them to switch between letter keys on the keyboard for different alphabets and symbols. You might also be able to designate certain keys for certain purposes.
Think of it as an extension of the TouchBar. This time, however, there may be actual keys instead of a touchscreen. According to the patent, there may be a mechanical-style keyswitch which would make the keyboard resemble your everyday keyboard. The keys themselves would have displays in them.
Is Apple only planning to launch this new reconfigurable keyboard with MacBooks? Well, the patent shows how this design might be able to be applied two standalone keyboards. That means that in the future there may be a reconfigurable keyboard for the Mac mini, the iMac , or maybe even the Mac Pro.
So, can we expect this to come with the next MacBook generation? Unfortunately, it's way too early to tell. This is pure speculation based on the clues dropped in the patent that was filed in December 2019. It seems that Apple has been working on this concept for more than 10 years. In fact, there was a report going all the way back to 2008 that Apple had filed a similar patent. It's not for sure whether this will be available within the next year or if it still has several more years of development before it can be perfected and put on a device that Apple is satisfied with. It does seem like a really exciting development if and when Apple decides to share it with us.