Pros and Cons of Buying a MacBook with Touch Bar
There is nothing more fun than getting a new electronic device. If you are considering getting a MacBook, you definitely want to think about which features you want on your new device. Macs are well known for lasting for many years, so the Mac you choose should be one that you will want to use for the long haul.
The Touch Bar is one of the features that might be a determining factor in a MacBook Pro purchase. Take a few minutes and check out this list of pros and cons. It might make your decision a little easier to make.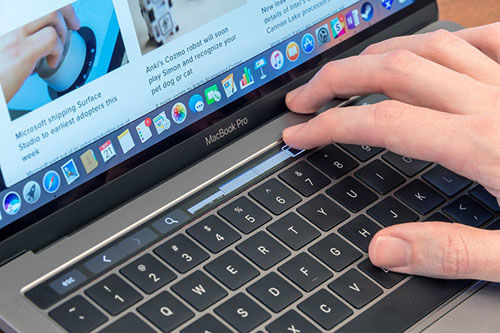 Pros of getting a MacBook with Touch Bar
Great performance is one of the pros of getting a MacBook with Touch Bar. The battery life on MacBooks with Touch Bar Macs is solid, and that certainly goes well with fast performance. Nobody has time to waste on a slow Mac. Am I right?
Along with amazing performance, you can expect to have a beautiful display as well. MacBooks with the Touch Bar feature have the beautiful Retina display that makes it so pleasing to use for gaming, entertainment, or even work. A Retina display is arguably considered to be the best of the best when it comes to displays.
If you are considering a Mac with Touch Bar, you will likely be pleased with the Force Touch trackpad. Many users like the cleaner look and versatility of Macs with Touch Bar. So, if aesthetics are important to you, the MacBook Pro with Touch Bar might be just the Mac you are looking for.
Cons of getting a MacBook with Touch Bar
If you usually like to get an upgrade on your processor and RAM, that's not an option with a MacBook that has Touch Bar. While the Touch Bar is a neat feature, having it on your MacBook means that you can't upgrade your RAM and processing because they are soldered to the motherboard. For this reason, they can't be replaced or upgraded.
Another thing you might not realize is that you are pretty much stuck with the internal storage that your MacBook comes with. The internal storage is also soldered on most Touch Bar Macs except for the discontinued entry-level non-Touch Bar models. Without being able to upgrade your internal storage, your Mac's life is kinda limited.
Some users who were so keen to have a Touch Bar have found that it's not as great as they thought it would be. Some have said that after the novelty of the Touch Bar wore off, it seemed like something that was not necessary after all.
The takeaway
You must decide for yourself if a Touch Bar MacBook Pro is right for you. It's amazing if you want a notebook that has a great battery life. If you can fit one in your budget, go for it. However, you shouldn't feel like you have to put the money down for a MacBook Pro with Touch Bar as you can definitely function without it and be perfectly happy.