In today's busy world, we are constantly looking for ways to make our lives easier, and it's not easy having two separate cell phones. If you have an iPhone XR, you can add a second line of service using an eSIM, which is a digital SIM card.
Before you go about setting up a second phone line, please be aware that this is not a free service. You are actually paying to have a second phone line that just happens to be housed in your same iPhone. You also need to know that you will need to be running iOS 12.1.1 or later in order for this to work. If you are planning on having a phone plan from more than one phone carrier, your phone needs to be unlocked. Following are instructions on setting up eSIMs on the major carriers.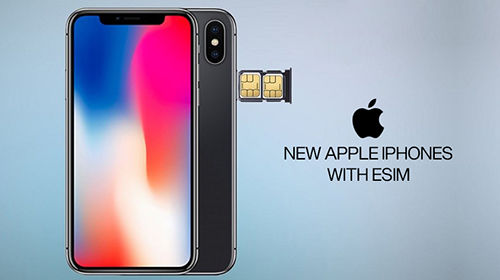 AT&T
To set up an eSIM with an AT&T account you will need to purchase a new eSIM account from AT&T. You will need the IMEI device from your device. This is the number that identifies your phone. You can find this by looking under your settings and then click on General and About. Once you've purchased the eSIM plan, you can set up your phone to have two SIMs.
To do so, go to Settings and click on Cellular. Next, click on Add Cellular Plan. Use the QR code from the carrier you have with your phone. On the bottom of your screen you will note that there is a place to enter details manually. Choose Add Cellular Plan and you can see your old plan as well as the new one. Here you can choose what to name your plans. On the next screen you can choose which line you want to be the default line.
Verizon
On Verizon, you can go through the process of getting a dual SIM using the Verizon app. Click on the app and click Join Now, and then click Get Started. Next you will need to locate your IMEI and register it. Go to Settings, General, and About. Look for the Digital SIM IMEI and copy it. Next you will need to go back to your My Verizon account in the app and tap Digital SIM IMEI Number to paste the number you copied earlier. Next you will have several screens come up that will help you go through the rest of the process of activating the service. After you've completed all those steps, you will get an email that has a QR code that you will scan to do the final account setup.
T-Mobile
Right now, you can only get an eSIM on T-Mobile's prepaid plans. If you are an existing T-Mobile customer and want to add a second line to your existing phone, you should use T-Mobile's DIGITS plan. This will let you access five phone lines from just one device.
To start, you will have to download the T-Mobile eSIM app from the App Store and choose T-Mobile eSIM. Enter your email address. If you are already using an email address on another T-Mobile plan you will need to use an alternate one. Enter your zip code and choose done. Then, confirm your address. After you've done this, you can choose the prepaid plan you want to use. Choose the plan you want, enter payment info, pick a pin, and label your new account. You might get a pop up that says you're choosing an uncertified cellular plan. Click OK and move on to the next screen where you'll choose your default plan.
It's fairly simple to get yourself a dual line on whatever network you currently use. No need to buy a separate phone. Just a few minutes of set up and you will have two lines in one iPhone.