Are you on the hunt for a new wireless keyboard for your MacBook Pro in 2022? There are several factors you want to consider when you're looking including the price, compatibility, and connectivity, just to start with. Fortunately, this article is all about some of the best wireless keyboards for the MacBook Pro.
Why should I use an external keyboard for my MacBook Pro?
If you have a MacBook Pro, you really should have an external keyboard. With an external keyboard, you have freedom from your screen to adjust yourself as needed allowing you to be as comfortable as possible. Your eyes will thank you! You won't have to sit right next to the display. Instead, you can sit further away from the harsh light of the computer which can sometimes cause eye strain.
Another thing you might want to consider is resale value. If you purchase an external keyboard to use with your MacBook Pro, you can prevent some of the wear and tear that happens with your laptop's original keyboard. Everyone knows that Apple products last a long time and hold their resale value well so if your keyboard is in excellent condition because it's not used as much, you can expect a higher resale value. Cha-ching!
If you use your MacBook Pro along with other devices or if you are often writing or reading papers when you're using your computer, it might be nice to have a separate keyboard so you can spread out. Being attached to the MacBook Pro's keyboard limits the space you can use. If you have a separate external keyboard, you can give yourself more room for other items without your laptop taking up most of your space.
Apple Magic Keyboard with Numeric Keypad
One would expect that Apple would make some of the best keyboards for their MacBook Pro, right? The Apple Magic Keyboard with numeric keypad is a great option to consider. It's created by Apple for Apple products so it's compatibility can't be beat. This wireless keyboard has a keypad included, so if you're someone who uses the number keys a lot, you might want to consider this option. If you're a gamer, you will really like this keyboard because it has larger arrow keys.
Other pros about this keyboard include the scissor mechanism keys. They are responsive and provide an optimal feel. You can also expect an extended layout. Of course, there is the full numeric keypad, but there are also quick navigation controls. Because it has a full numeric keypad, you can expect this keyboard to be wider than many laptops. If that's not an issue for you, you should consider the Apple Magic Keyboard for your wireless keyboarding needs.
Apple Magic Keyboard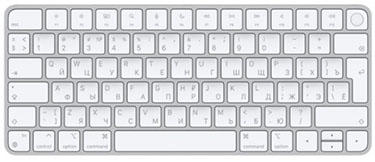 If you don't really care about having a full numeric keypad, you might consider getting the Apple Magic Keyboard. If you want to go Apple all the way, this is a basic keyboard that will fulfill your needs. The color options are white or silver, which will go well with whatever color your MacBook Pro happens to be. The benefit of this keyboard is that it's made by Apple so you can trust it to work as well as the other Apple products you know and love. You will also love the clean, sleek design. It's also light as a feather, because no one wants to have to lug around a heave wireless keyboard.
You know Apple products come at a premium price, and that's the case with this keyboard. However, you also know that Apple products live up to the hype and last for many years of problem-free use. If you like having a numeric keypad, go for the Apple Magic Keyboard with Numeric Keypad mentioned above because this keyboard won't have that feature.
These are just a couple of external keyboards that will work well with your MacBook Pro. It's worth it to spend a little money now to get an external keyboard because it will make things so much easier for you in the long run.