Mac for Gamers: Which One to Choose
It's a new year. And if you are a gamer you know exactly what that means: new games! If you are a Mac lover, you may want to be able to play games on your Mac laptop.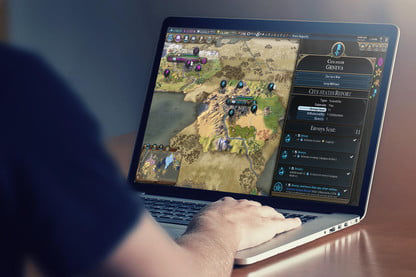 You may need to use a Mac for other reasons besides gaming, though, including school and work. But does that mean that your Mac laptop that is only good for work and can't be used for fun stuff? Perish the thought! You can find a Mac laptop that is good for both work and play. Let's dig right in and discuss the top three Mac laptops for gaming in 2020 because, believe it or not, some are better than others for gaming purposes.
1. The 15-inch MacBook Pro
The best gaming Mac out there has to be the 15-inch MacBook Pro. While there are cheaper Macs out there, there aren't any Macs better for gaming than this beauty. If you're an average gamer, the MacBook Pro entry level 15 inch will be good enough for you. It's not quite as fast as an iMac, but you will be more than satisfied with the performance of this MacBook laptop.
A 15-inch MacBook Pro with a Radeon Pro 55X has enough power to run most games that are out now at 1080 with settings on medium. You might know that a MacBook Pro runs at the higher end of pricing for Mac products. The 15-inch MacBook Pro is not going to be cheap. At just under $2400, there are cheaper MacBooks out there, but they won't be as good for gaming. It would be really disappointing to shell out money for a laptop that doesn't meet your needs, or which will limit your gameplay ability.
To maximize your gaming ability on the 15-inch MacBook Pro, you want to make sure that you choose an appropriate graphics card. For example, you can update your MacBook Pro to a Radeon Pro 560 X for better performance in gaming.
2. The 13-inch MacBook Pro with Touch bar
What are some other MacBooks that are good for gaming that can save you a little cash? You can also go for the 13-inch MacBook Pro if you want to be doing some gaming. This one will cost you less than the 15-inch MacBook Pro, but it won't be as fast as the larger model. Of course, you could customize the 13-inch to have the features that you want in order to save even more money. You can get the 13-inch with the touch bar if you like, and it will have decent gaming capabilities. There is also a 13-inch non-Touch bar model available which is even cheaper, but it may not be around for much longer as it is likely going to be discontinued. If possible, go for the 13-inch MacBook Pro with Touch bar.
3. The MacBook Air
Do you like the idea of having a light, inexpensive MacBook for your gaming? Maybe you should consider the MacBook Air. The MacBook Air has received a pretty sweet update in recent months. The update has caused it to go up a couple hundred bucks in price, but it's still one of the more affordable MacBook laptops.
The games that you can play on MacBook Air are limited when compared to the 15-inch or 13-inch MacBook Pro with touch bar. However, if you are not a big gamer and you don't mind the limited nature of games that are available to be played with decent quality, then the MacBook Air might be the laptop to consider because of its price. It's one of the most affordable MacBooks out there right now for gaming. Don't get me wrong, it's not built to be a gaming laptop but there is some gameplay functionality- albeit limited
To sum it all up, then, there are a few MacBooks that are good for gaming along with their traditional uses. How good the gaming ability is depends on how much cash you want to fork out. Just keep in mind, if you are getting a laptop for other uses besides just gaming, the more money you spend on the laptop, the better its performance will likely be in other areas besides gaming.
All diffferent options of refurbished MacBooks are on Tech Trade.