How to Optimise Battery Work on Your Mac
Everyone knows that a Mac is built to last. But even a Mac can have battery issues arise. This article will cover some ways you can troubleshoot your Mac to find out if there is anything you can do to improve the battery.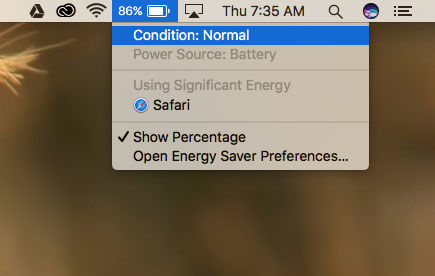 First Things First
You should start your trouble shooting with the Apple Diagnostics. You can run the Apple Diagnostics over the Internet, and that will have the latest diagnostic information. You can do this by turning off your Mac. Choose Shut Down from the Apple menu and press the power button. Next, press and hold Option-D until you see the Apple Diagnostic start. If Apple Diagnostics doesn't confirm any issue, you can contact Apple or take your computer to an Apple Authorized Service Provider. They will be able to help you with any issues.
Do you Truly Have Low Battery Runtime?
First, identify what the expected battery life for your device is. You might be expecting a certain amount of time that your device is not equipped for. Apple's Tech Specs site shows you what you can expect to get for your device in the way of battery life.
Identify Apps that Affect Performance
You can increase your battery life by figuring out which apps are a drain on your Mac. Some applications take more battery life from your device. You might want to make sure you aren't using these apps at the same time. And when you are done with them, exit out of the app. Don't just leave it running.
You also want to make sure you have the latest versions of your apps. Outdated apps might not perform as well as newer versions of the apps, so you can be losing battery life unnecessarily because of not getting updates.
Minimize the Common Reasons for Battery Life Drainage
One thing you can do to make sure your battery life lasts as long as possible is to make sure that your automated backup or sync software runs only when you are connected to a power source. That will prevent these necessary processes from happening when you are not connected a power source. This will prevent backups and syncs from draining your battery.
Check for Malfunctions
Is everything working the way it should? You can check Activity Monitor for any software processes that aren't functioning the way they should. You might especially want to try this if you have just installed a new operating system or a software update. It's very important to install updates to make sure your Mac is performing at optimal levels at all times.
Test in Safe Mode
Have you exhausted all of your options? Test your Mac in Safe Mode. Safe Mode limits the items on your system that are active and allows you to test in a more minimal environment. If you find that your battery life is better in Safe Mode, you might want to consider checking out your software to isolate the area where you power is being drained.
Is the Battery Charging?
Maybe your issue with your Mac is that your Battery isn't charging at all. You want to make sure you have the correct AC adapter. If you are using a power adapter with lower wattage than your system needs, you might not be able to get a good charge. You can identify the correct adapter and cord for your Mac and make sure that you are using it.
Battery Won't Charge Fully
Sometimes, your Mac may not get a full 100% charge even if it has been charging for some time. The battery might look like it stops charging at somewhere between 93% and 99%. This is completely normal, and will help to prolong your Mac's battery life over time.
Servicing your Mac's Battery
If all else fails, you can have your Mac's battery serviced, but this should only be performed by Apple Authorized Service Providers to ensure that you are getting proper service. If you think you can do the job yourself, you can potentially damage your Mac, making it have bigger issues than just a battery. Some Macs have built-in batteries and to untrained people, it could be a huge issue to fix of if a mistake is made.
With a little love and TLC, you can get your Mac's battery problems taken care of. When the battery issues are fixed, you'll be back on your way to a long-lasting relationship with your Mac and many more years of use.