In the end of January 2021, Apple released iOS 14.4 and iPadOS 14.4 with some nice fixes to bugs in previous iOS. There are also some nice tweaks added with these updates. Let's dig right into some of the updates so you know just what you'll be getting once you download and install it, starting with some of the bug fixes.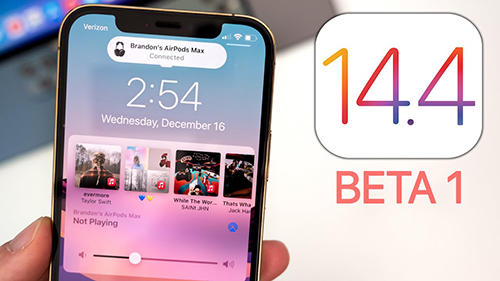 Bug fixes
There have been several bug fixes implemented in this new iOS 14.4 update including the following:
Delayed typing
There was a bug that would result in a delay in typing. Word suggestions would not appear on the screen with this bug that had been ongoing for awhile with some users.
Switch control
There was a bug that would prevent phone calls from being answered on the lock screen if the switch control feature was turned on. This has been addressed in the newest iOS update.
Incorrect messages language
There was a bug which would sometimes result in the incorrect language appearing on the language keyboard. Imagine how annoying that could be. This issue has been resolved with the currently released iOS 14.4 update.
CarPlay News app
There was a bug that would cause some issues with the audio of News app. Apparently, if the app was paused for spoken directions or even Siri, it would not resume playing. This issue has been taken care of with this new iOS.
Other updates with iOS 14.4
Beside bug fixes, there are also some other updates and improvements that will come from installing the new iOS 14.4. Check out a few of them below.
QR code support
One minor update available with the new iOS is with support for small QR codes. With the latest update, the iPhone's camera is now able to read smaller QR codes. With this update, you'll notice an improvement in overall function of QR code scanning. This may not be a feature that you use very often, but it's a feature you want to work when you need it.
Bluetooth sound settings
One of the newest features of iOS 14.4 is helpful for third-party audio devices that are connected via Bluetooth. It allows the volume levels of headphones to be measured accurately. Apple keeps up with the volume levels of headphones so it can alert users if the volume of the music is loud enough to cause hearing loss.
Security vulnerability fix
One of the notable updates that users can expect with the new iOS is fixes to some security issues. Apple recommends that you update your iOS to this latest one as soon as possible, as it is a fix for three security vulnerabilities. One of the vulnerabilities, which the newest iOS 14.4 fixes, might possibly allow a malicious app to increase the privileges to a level that might allow for individuals to have remote access to your device. Yikes! It's probably worth your time to do this update if only to make sure your device doesn't have this vulnerability.
The takeaway
If you're not one who likes to download and install the latest updates until you are absolutely forced to, you might want to reconsider that for this update. This article listed just a few of the updates that come with the newest iOS release. A lot of the fixes to bugs and updates are ones that really benefit users by providing a more secure and pleasant overall experience.