Benefits of Retina Display
Are you trying to decide whether to get an iMac with the Retina Display or a MacBook? If premium picture quality is a must, you want the iMac with Retina Display. If you want to save money while still getting an amazing machine from Apple, the MacBook might be your best choice. There are many options to consider when you are making this decision. Let's look at some of the pros and cons to hopefully make your decision a little easier, or at least, informed.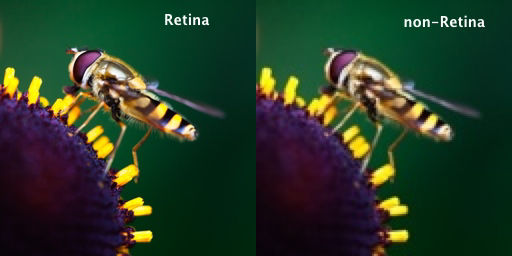 Pros: Reasons to get the Retina Display
One of the most obvious reasons to get the iMac with Retina Display is a superior display. You can expect a super clear, pristine viewing experience with a Retina Display. If you like gaming and watching videos, a Retina Display offers an obvious improvement in viewing experience. If you happen to be a professional graphic designer or if photography is your thing, you will notice a big difference between a MacBook or an iMac with Retina Display.
IPS screen technology, which is what the Retina Display really is, offers high pixel density and resolution. Retina Display is the term Apple coined to refer to their IPS screen display. The advantages include a wider angle of view, intense white colours, a better representation of colours, and better times for response. What's not to love?
There is also more display information available when you get an iMac with Retina Display. It becomes possible to open apps side-by-side without losing out on the image quality like you would with a lesser display. You can view websites and enjoy amazing quality and finer details which you might miss out on with a lesser quality display.
Do you have to use your computer for hours on end? You might seriously want to consider getting a Retina Display. Having a computer with Retina Display may help to reduce eye strain by making sure your eyes are not having to exert too much effort when you are looking at your screen. Staring at one spot for extended periods of time can be difficult on your eyes. With a Retina Display, this strain may be reduced or eliminated altogether. The Retina display's resolution is supposed to be high enough that an individual can see individual pixels from 12 inches away. Images have a sharpness that regular screens can't compete with.
Cons: Reasons you might not want the Retina Display
The price is most likely the reason a person would not want to get a Retina Display. Seriously. Who wouldn't want a screen with a clearer, crisper image? If you want that luxury, you will have to pay for it, and pay dearly. For Retina Displays to put out those amazing images, some fancy technology is needed. It costs more for IPS screen displays to be manufactured, so the company will have to charge more for these screens. That's just the way it is.
Another reason you might not want to get a Retina Display is that it consumes more power than regular AMOLED or TN screens. To get that amazingly clear picture, an IPS screen will consume 15 per cent more energy. There also has to be a strong backlight, which explains the increase in energy consumption. Your battery will drain faster, so if you need a long battery life this could be a negative for you.
A Retina Display offers amazing picture quality, but it does not always run all apps. Some apps have not been optimized for a Retina Display, so they may not show up the way they should. They might, instead, look pixelated or distorted which is the exact opposite of what a Retina Display is designed to do.
Which device will you choose? Is an amazingly clear, crisp picture important to you? The iMac with Retina Display should be your go-to choice. If a clear display is not the most important factor to you then you might be able to get by with a MacBook. You can certainly save some money with getting a MacBook. If, however, money is not an option, you might want to go ahead and spend it on the iMac with Retina Display.