Are you thinking about getting an Apple Watch? You will surely want to know what features make this watch a must have for Apple fans. Let's start with some of the top features you'll want to know about.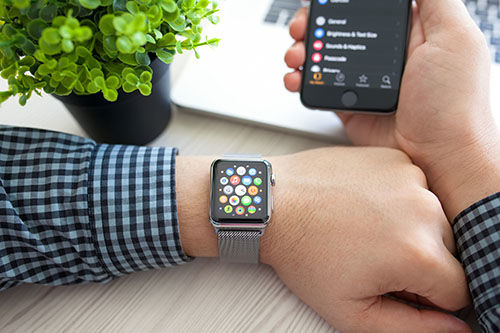 Health and Fitness Tracking
Apple Watch has a few different features that might appeal to users wanting to keep track of their health. One of those features is a heart rate sensor. It also has quite a few apps that can be used to keep track of your well-being including the Activity app. This app will collect information about your actions throughout the day. It will remind you to get moving when you've been sitting without moving for too long. It can also be used to help you set goals and see progress towards your targets. If you make good progress, you earn badges. And who doesn't like earning badges?
Apple Pay
Apple Pay is such a quick and easy way to pay! With Apple Watch, you can bring this functionality to iPhone 5 and later. You just double click the button that is next to the dial and put your watch face close to the payment terminal. You will be able to feel when payment has been made because there will be a pulse when payment is complete.
The Digital Crown Feature
One of the complaints of owners of smartwatches is that they can be difficult to navigate. The screens are pretty small on a watch compared to other devices. Apple Watch has a Digital Crown that will make it easier to navigate between screens. It's a knob that acts like a home button. When you press the Digital Crown, you are returned to the main screen and you can turn it to zoom into apps or scrolls through options on the interface.
Siri
With the Apple Watch, you can have access to Siri. Siri is a voice-controlled assistant that is designed to make your every-day tasks easier. If you are used to Siri on your iPhone, you can expect the same thing from your Apple Watch except for the fact that, depending on the version of Apple Watch you own, you might have to be tethered to your iPhone to get search results from the Web.
Remote Control Functioning
Apple Watch can be useful for getting you up and moving with the health apps, but it also makes it easier for you to sit exactly where you are for hours on end if you wish with its remote-control feature. You can navigate your Apple TV menu and even turn off and on lights in your home. These features make it pretty easy to be a couch potato on those days when you just want to relax.
Hotel and Car Key Replacements
One of the more novel uses of the Apple Watch is as a room key for a hotel. You can not only see your reservation information, but your Apple Watch can also be turned into a room key. You can unlock the door to your hotel room just by tapping your watch. It might not work at all hotels, but the fact that it does work with some is pretty fascinating.
The Apple Watch was also designed to be able to replace car key fobs as well, so you may be able to unlock your car with just a tap on your watch.
Passbook Integration
Apple Watch makes it possible for you to pass right on through security the next time you are at the airport. You can quickly and easily pull up your plane tickets and boarding pass without having to pull out your phone. You can even have an alert set up to let you know when you enter a place that uses loyalty cards that you possess. Talk about convenience!
Apple Watch has many more features that make it worth considering as a smart watch. If any of these interest you, you might want to treat yourself to an Apple Watch.