Refurbished MacBook Pro – technical info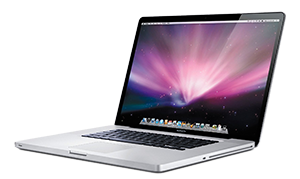 Apple's MacBook Pro is a line of Macintosh computers to offer users a high-end laptop computer with a 13, 15, or 17- inch screen. The original MacBook Pro looked very similar to the PowerBook G4, but it used Intel Core processors instead of PowerPC G4 chips. Different MacBook Pro generations had different body styles and different screen sizes. The original MacBook Pro had a 15- inch screen. The unibody model was introduced with the second generation. The aluminum unibody enclosure had tapered sides reminiscent of the MacBook Air. Apple marketed the product saying that it had five hours of use on one charge and would hold 80 per cent of its charge after 300 recharges. The third generation MacBook Pro had the Retina display and Intel's third generation Core i7 processors. It also featured two thunderbolt ports.
The fourth generation MacBook Pro has the Touch Bar, which is an OLED strip built right into the top of the keyboard. All ports were replaced with USB-C 3.1 Gen 2 ports which support Thunderbolt 3 as well as dual DisplayPort 1.2 signals which can be used for charging.
Why it is a good idea to buy a refurbished MacBook Pro
If you have been considering buying a MacBook Pro brand new, you should also consider the benefit of buying it refurbished, that is, factory reconditioned. Buying a refurbished laptop would mean that you would get all of the same benefits that come with buying a new laptop, except the price is drastically reduced. If you would consider getting an Apple product that has been sent to the factory, reset, and reconditioned, you can save a substantial amount of money and get more computer for your money.

Benefits of buying a refurbished MacBook Pro:
The MacBook Pro has been factory reconditioned and reset just like a new laptop
You will receive a warranty, ensuring a top quality MacBook Pro
Can get more computer with less money
Benefit of a laptop that has the Apple brand of quality assurance
New vs. refurbished MacBook Pro
A new MacBook Pro definitely gives the user a wonderful experience. The creators of the product do all that they can to entice the customer to buy their product over all others even though they are usually one of the most expensive products. It's often said that first-time customers become customers for life once they try the quality products Apple has. You can experience all of the good of getting an Apple product without having to shell out part of your life saving to afford it brand new. If you have been going over and over in your mind the benefits and risks of getting a product that is refurbished, it only makes sense. You want to get a product that you can trust and that will last for years to come. You should definitely consider getting a refurbished MacBook Pro because you can have the same experience with a refurbished one as you could with a new one. The MacBook Pro is a premium laptop, no doubt. If it is purchased new you can expect to pay a premium price. It's a much better option to get a laptop with the premium experience without the premium cost.