Refurbished MacBook – technical info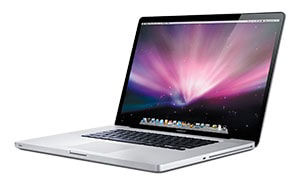 The MacBook is a laptop computer created and manufactured by Apple Inc. The company has manufactured this popular brand of laptop computer from early in 2006 to the present. The MacBook replaced the iBook and PowerBook. In the laptop range from Apple is the MacBook, MacBook Air, and MacBook Pro.
The exact makeup of a MacBook depends on the model that you buy, but in general, you can expect that a MacBook will have a glossy display and a keyboard that has the sunken design for MacBooks before 2017. Higher end models of the computer have a backlit keyboard. MacBooks in 2016 have a larger keyboard. The ports for USB, audio, and other functions are on the left edge on earlier models. Memory ranges from 2 GB, again, on earlier models, to 8 GB on models in 2016.
Why it is a good idea to buy a refurbished MacBook
The benefits to buying a refurbished MacBook are numerous. The biggest reason that many choose to purchase a refurbished MacBook is that it saves money. You can get a like new MacBook for a much better price than buying one brand new in the store, saving you a lot of money.
Although a refurbished MacBook is pre-owned, it has been reconditioned in an Apple factory to meet the exacting standards of the company. The thorough testing of the MacBook before it is sold ensures that it will be in like-new condition.
Benefits of buying a refurbished MacBook:
Extensively tested and cleaned in like new condition
Comes with a warranty that will fix any defects encountered
Costs less to receive same benefits as a new MacBook
Free UK delivery on items over £100
Read our Help / FAQ section for more info.
New vs. refurbished MacBook
A new MacBook is one of the most popular computers around, but it does cost quite a bit of money. You can get similar benefits and enjoy a computer with that same brand while spending a lot less money if you go with a refurbished MacBook.
All MacBooks that are refurbished have a warranty against defects. This means that if you find a defect in your MacBook, you simply return it. Your item will be repaired and returned to you in full working condition. This is unlikely, but the provision of the warranty gives peace of mind to many when buying refurbished a MacBook.
It's important to remember that there is always a chance that a product will have an issue when you first purchase it, even if you are purchasing a brand new MacBook from an Apple store. At least with a refurbished MacBook there has been a problem that's been reported, fixed, and tested again to ensure it's in proper working order.
Timeline of the MacBook family (2015-2022)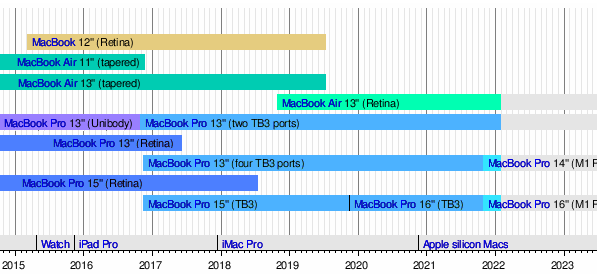 Source: Wikipedia
MacBooks Category News
06.06.17
We've added a banner to this category describing all benefits of our store. Buying Macs and Accessories online is even more profitable with our deals. We hope you will like it and save money with our site.
09.05.17
We have a new in stock Apple MacBook Pro - 13.3 inch - Intel Core i5 - 8GB RAM - 500GB HDD. it will be ideal for gamers and routine tasks.
28.04.17
We have got a super powerful business Apple MacBook Pro - 15.5' - Touch Bar - Space Grey - Intel Quad Core i7 - 16GB - 512GB certified for £2,299. This is a great machine for different requirements.
20.04.17
Added slim and powerful Apple MacBook Air - 13.3" - Core i5 for just £399. It has 128 GB SSD storage and 6 months warranty.